AEON MALL (CAMBODIA) CO., LTD. (hereinafter referred to as "AMC") and Cambodia-Japan Cooperation Center (hereinafter referred to as "CJCC") signed a MoU to collaborate in the CJCC Accelerator Program (CJAP). This collaboration aims at contributing to the development of entrepreneurs in Cambodia, as well as the country's economic development and advancement.
With this agreement, AMC will collaborate on the following initiatives
Providing scholarships to CJAP participants
Selecting entrepreneurs who can be expected to generate synergies with AMC
Providing intensive mentoring to the selected entrepreneurs to brush up their business plan
Conducting seminars and business matching for CJAP participants
Provide support for other CJAP activities
And expects the following outcomes
Creation of business ideas that generate synergies with AMC's business
Support for potential partners who will be indispensable in promoting the realization of business ideas
Contribution to Cambodia's economic development and advancement
Proposingnew values to Cambodian society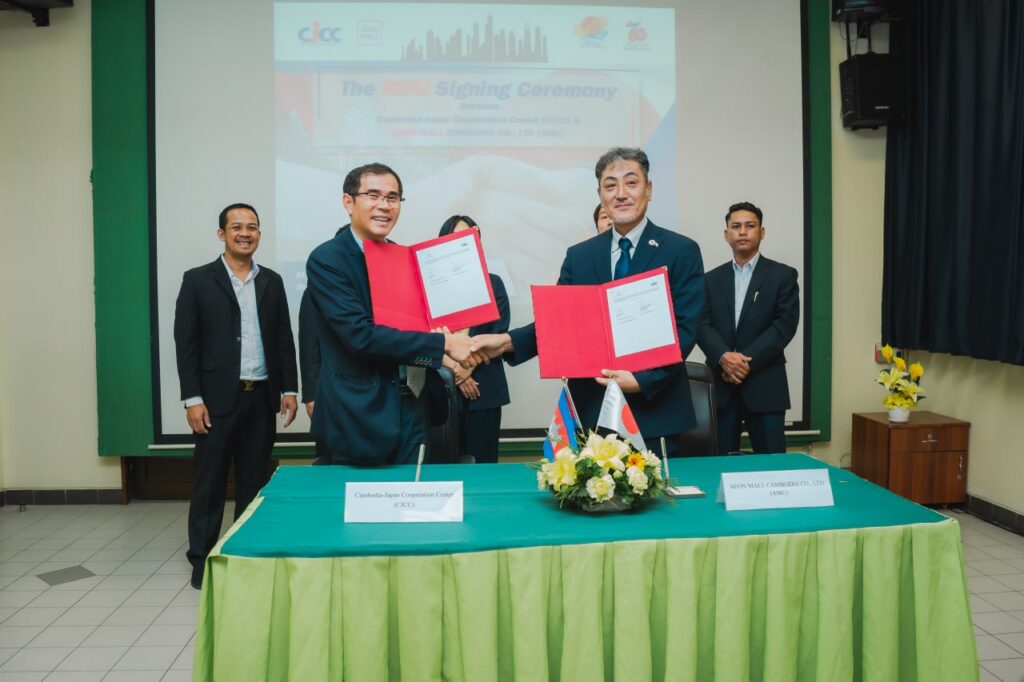 ■ AEON MALL (CAMBODIA) CO., LTD.
AEON MALL is a specialist shopping Mall developer. The philosophy of putting the customer first has guided our continuing efforts to create malls that enhance the quality of life, stimulate local economic activity and contribute to community life and culture. AEON MALL cooperates in the building of communities that are exciting, fun to live in and vibrant. AMC will use our skills to bring new value and attractiveness to communities, society and customers.
■ Cambodia-Japan Cooperation Center
Cambodian-Japan Cooperation Center (CJCC) has been training and developing high-competent human resources for Cambodia, enhancing mutual understanding and cooperation between Cambodia and Japan through three main activities: Business Training, Japanese Language for Career Development, Culture and Education Exchange Program. CJCC is supported by both Cambodian government represented by Ministry of Education, Youth and Sport (MOEYS) and Japanese government represented by Japan International Cooperation Agency (JICA) and Japan Foundation (JF).
■ CJCC Accelerator Program (CJAP)
The purpose of CJCC Accelerator Program is to grow the investment ready entrepreneurs through providing the business capacity development as well as creating the business coloration and fundraising opportunities with Cambodian business association, impact investors and Japanese Companies.
This year, CJAP has been certified as a project commemorating the 70th Anniversary of Friendship between Japan-Cambodia and the 50th Years of ASEAN-Japan Friendship and Cooperation.
CJCC Accelerator Program consists of two main parts;
1. First Phase to develop business capacities
Participants learn to develop their business capacities from intensive workshops, peer to peer mentoring from experts, and support from the CJAP coordinators.
2. Second Phase to provide business matching and fundraising opportunity
Participants will participate in an online demo day, pitching opportunities with Cambodian business association and Japanese companies, business matching and fundraising activities for business expansion.
■ Overview of the ceremony
New Value Creation by Supporting Cambodian Entrepreneurs
Organizer : Cambodia-Japan Cooperation Center (CJCC)
Purpose : Contributing to the development of entrepreneurs in Cambodia, as
Well as the country's economic development and advancement
Venue : Cambodia-Japan Cooperation Center (CJCC)
Day : May 9th, 2023
■ Contact information
AEON MALL (CAMBODIA) CO., LTD. Corporate Planning section, Tel: (+855) 23-988-100