Phnom Penh, 19 October 2021, ABA Bank, the leading commercial bank in digital finances, and AEON MALL, a core enterprise of the AEON GROUP specializing in shopping mall development and operation in Cambodia that manages AEON MALL Phnom Penh and AEON MALL Sen Sok City, have inked the Agreement on electronic money acceptance to promote a more convenient and safer shopping experience for AEON MALL customers.
Under this partnership, ABA clients will avoid the hassle of handling cash at AEON MALL by scanning ABA PAY QR codes at the checkouts with the ABA Mobile app. The QR code service is ready to use in both AEON MALL shopping malls, which nest more than 200 shops, supermarkets, and department stores. The ABA QR codes available in POS terminals and static stands bring the convenience and safety of contactless payments.
Additionally, ABA Bank has become a strategic partner of AEON MALL Sen Sok City in providing its tenants with modern and secure cash collection tools via self-banking machines and over the counter. At the same time, AEON MALL will use ABA Internet Banking for Business platform as a comprehensive financial management tool.
Tsuboya Masayuki, Managing Director of AEON MALL, commented on the occasion: "First of all, we would like to express our sincere appreciation for this partnership and cooperation with ABA Bank. We firmly believe that our customers will delight with this collaboration on Electronic Payment shopping experience in our shopping malls. Last by not least, AEON MALL aims to provide the leisure living environment to our customers that pursuant to our mission is to "Fill Everyday Life in Cambodia with New Possibilities".
"We are delighted to officially declare today our partnership with AEON MALL on electronic money acceptance and cash collection services. We are certain that ABA Bank's sophisticated and convenient solutions will bring various benefits to the tenants of AEON MALL and, ultimately, to millions of our customers and clients. It is ABA's continuous contribution to the further financial inclusion and development of digital economy in the country," Madi Akmambet, Executive Director of ABA Bank, commented during the partnership announcement ceremony.
ABA and AEON MALL are well-known brands in Cambodia in their respective market sectors. Thanks to its digital transformation and accessible digital banking platforms, ABA is acknowledged domestically and globally as a leader in Cambodia's banking and finance sector. Likewise, AEON MALL has become well known for its shopping experience focused on high-quality items and services since its inception in Cambodia in 2014.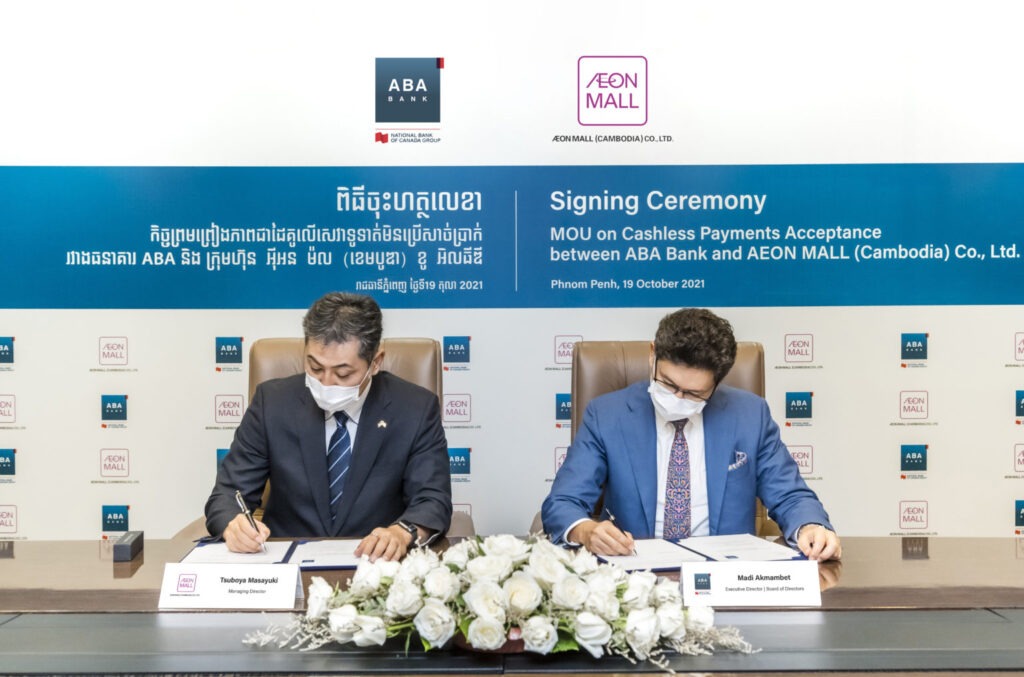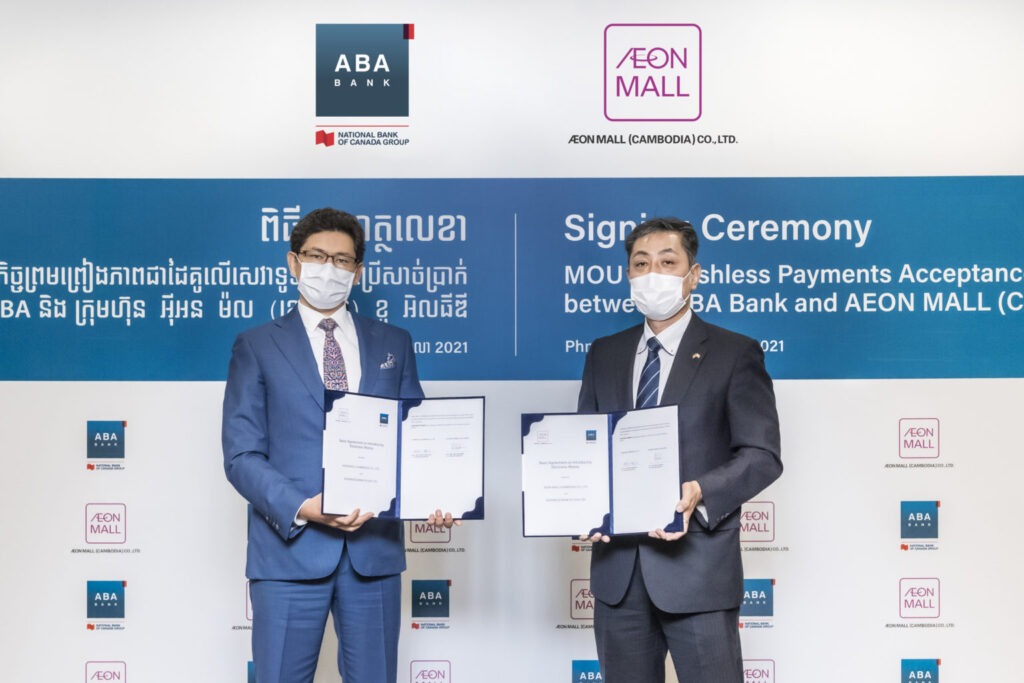 Press Release details :
[KHM] MoU Press Release-ABA X AEON_19102021
[ENG] MoU Press Release-ABA X AEON_19102021